beclovent
Go Back
Feel Free To Contact Us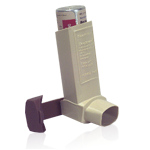 Beclovent (Beclomethasone) :Asthma
Synonyms: Beclate, Aerobec, Aldecin, Anceron, Andion, Beclacin, Becloforte, Beclomet, Beclometasona, Beclorhinol, Becloval, Becodisks, Beconase, Beconasol, Becotide, Clenil-A, Entyderma, Inalone, Korbutone, Propaderm, Qvar, Rino-Clenil, Sanasthmax, Sanasthmyl, Vancenase, Vanceril, Viarex, Viarox
The generic name of the Beclovent is Beclomethasone. Beclomethasone is a steroid that prevents the release of substances in the body that cause inflammation. This is a drug product which is inhaled by the human to prevent or to cure from asthma attacks. It will never show the effect on the attack that has already begun.


Important info:
The most important thing you should know about the Beclovent is this is an inhalation treatment that will not work on the attack that has already started. It will not work faster enough to stop symptoms of an attack. Always keep the faster-acting inhalation medicine to treat asthma attack.
Before using beclovent:
Contact your doctor if you are not feeling that your asthma symptoms are not yet improved after the use of Beclovent for more than 2 weeks. If you are suffering from illness, or you are under pressure, stress, if you have surgery then your dosage may have to be change. If you are using Beclovent inhalation, you may need to take oral steroid if you are a patient of mental disorder or under pressure, and you had an asthma attack before. Contact your doctor before taking this inhalation steroid because it is harmful to an unborn baby. Also if you are breast-feeding baby, concern to your doctor. Whenever you miss the dose take that dose as soon as you remember, and if you have almost passed out the timing of a scheduled dose just skip that missed dose and go for next, but never take the double dose of this medicine. There is no any serious side effect yet observed. But if you experience any of the following concern the doctor immediately and stop taking the dose. Numbness, tingling, pain, rashes, worsening respiratory symptoms, and dry nose, mouth, throat, deepening voice, headache, cataracts are the side effects can occur due to beclovent.