Precose
Go Back
Feel Free To Contact Us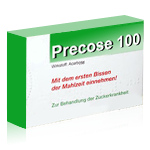 Precose(Acarbose) : Diabetes
Synonyms:Glucobay, Rebose
Generic name of Precose is Acarbose. An Acarbose is a glucosidase inhibitor used to prevent diabetes symptoms. Generally, Precose is used to treat two types of diabetes seen in adults whose diabetes cannot be managed by controlling on diet alone. Precose may be used alone or in combination with the other any oral diabetic medicine, or with insulin too. Precose works by slowing down the enzyme which converts carbohydrates into glucose; this decreases blood sugar levels.


Important info:
Use diabetic medication as prescribed by your doctor, and follow the scheduled timing as directed by him. And never forget to read the instructions written on the medicine for exact dosing. The way of administration of Precose is mouth. It is taken orally with food. If you are suffering from another disease and you are using medication for it like charcoal or digestive enzyme preparations, do not take them within 2-4 hours before and after taking Precose. And if you have any queries or any doubt about the medicines in your mind, do let know the doctor. If you are stressed and/or you are suffering from any kind of mental disorder, or you are depressed; then temporary insulin therapy may be necessary. If you are in severe trauma, or having fever, infection, or had surgery you need insulin therapy.
Before taking Precose:
If any diabetic patient having allergy to any ingredient in Precose; then avoid taking this medication. You have blockage of the stomach or intestine or are at the level of risk for this problem then you shoul avoid taking Precose. If you have chronic (long term) internal inflammation, ulcer problem, stomach or intestine problems, or problem in nutrient absorption; avoid Precose. If you are suffering from cirrhosis of the liver or unexplained abnormal liver function, diabetic ketoacidosis, or severe kidney problems, tell your doctor. If you are pregnant, planning to become pregnant, or breast-feeding; not go for Precose. Having allergy of any substances or food, stomach or intestinal problems, liver or kidney problems, avoid the medication of Precose.